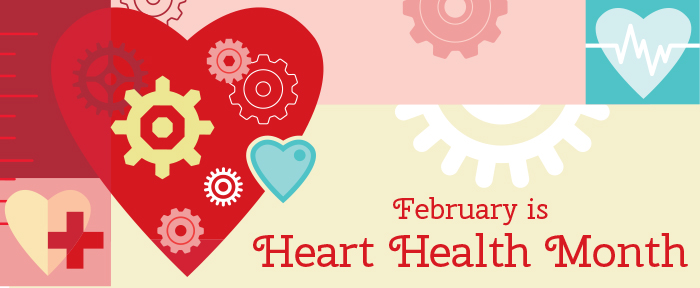 February: The Heart Month
The Truth About Heart Disease
Did you know that February is the official month of Heart Health Awareness in the United States? Heart disease is one of the leading causes of heart attack, stroke and death. Although nearly 80% of cardiovascular disease can be prevented, it continues to be the most common cause of disease, affecting both, men and women. Research shows that 50% of Americans have at least one of the top three causes of heart disease: high blood pressure, high cholesterol and chronic stress. Heart disease is affecting people in every age category due to the fact that the risky conditions that cause heart disease are affecting them at earlier ages.
The Three Main Causes of Heart Disease: High Blood Pressure, Unbalanced Cholesterol Levels and Chronic Stress
One of the most common causes of heart disease is high blood pressure. Blood pressure is the force that happens when the heart pumps blood into the blood vessels. High blood pressure forces the heart to pump harder, which can cause chronic stress, depression, heart attacks and strokes. Unhealthy cholesterol levels from poor nutrition and lack of physical activity also increase the risk of heart disease. Diet is imperative to maintain a healthy heart and to prevent disease. A sedentary lifestyle can also create issues in heart health, so it is important to be active throughout the week in order to maintain a stable heart. Chronic stress is is both a cause and effect of heart disease. Stress affects the brain and the heart directly which then begins to cause problems in the heart, lungs, neck and shoulders. Once stress becomes chronic, it can cause depression, anxiety, laziness, anger, and other psychological blockages. Stress also creates pain the joints and muscles, hair loss and weight gain/loss.
Women's Heart Health Day
February 1st is recognized nationwide as Women's Heart Health Day. "Go Red for Women" is a campaign created by the American Heart Association to increase awareness, treatment, and prevention of heart disease. Men and women wear red to spread awareness to honor those who have passed and the ones who survived. They encourage women to commit to becoming more in tune with their hearts by eating healthier, being physically active and regulating blood-pressure more often. You can donate or read more about the cause by going on www.goredforwomen.org
What Can You Do
There are several natural ways to treat and prevent heart disease. Diet and proper supplementation are key to optimal health. It is important to have a diet that is rich in vegetables and fruits. Avoid sodium, sugar and genetically modified food so that the organs can digest properly. Eat smaller meals every 3-4 hours so that you do not overload the digestive system. Stay physically active throughout the week to strengthen the heart and lungs. Exercise, yoga, dance and meditation are key components to stress management and overall happiness. Find something that makes you happy and creates a positive impact on your life. This will balance the stress levels in the body and mind.